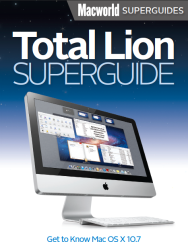 When enough is never enough, MacWorld is there for you…with an in-depth 132-page guide to anything and everything Mac OS X Lion. Seriously, check it out for yourself, as here's what they have to say:
In this book, we walk you through everything you need to know about Lion, starting with a comprehensive rundown of all the new features present in this version of Mac OS X. We help you install Lion, troubleshoot any installation woes, and learn how to set up a boot disc or drive.
Once you've got Lion up and running, discover how to navigate the new interface by using Multi-Touch gestures, Mission Control, and Launchpad; share files in AirDrop; and control other screens via Screen Sharing. Avoid ever having to manually save documents again with Lion's new Auto Save, Versions, and Resume features. Protect yourself from would-be data thieves by using Apple's FileVault 2 encryption functionality. And finally, find out about tons of new features, big and small, that Apple has added to the OS's included applications.
If it sounds like something you like, it's available in just about every form—ibook, Kindle, CD-Rom, something called a printed book and more. Prices range from $9.99 to $24.99 depending on the form. They've also added a nice 23-page sample PDF for you viewing pleasure, and to convince you this is a must-buy book. What do you think? A must-buy?