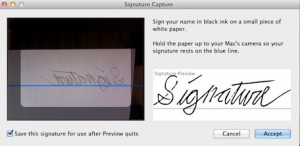 Apple's new operating system—OS X Lion—has made signing PDFs easier than ever. And tuaw.com does a great job of explaining this handy new feature. Here's their take:
It's been possible to scan in your handwritten signature and sign documents in earlier versions of Mac OS X, but it was a complex process and one most people probably never trifled with. 
Lion's version of Preview comes with a built-in signature scanner that makes signing documents far simpler. In the Annotations toolbar you now have an option to create a signature from your Mac's built-in iSight camera. All you need to do is use black ink to sign a piece of white paper, align your signature toward the camera using the onscreen guides, and take a snapshot of the signature. 
Preview can store multiple signatures, so if you need to both sign and initial documents, you're able to do so easily using Preview's annotation functions. It's a great feature, and one that ensures my printer will be gathering even more dust than it already has.
However, TUAW does have one clarification to make:
[Just to be clear, this process only applies a graphical representation of your signature; it does not cryptographically 'sign' the PDF document to ensure that it has remained unmodified. Adobe's Acrobat application can sign PDFs with both a graphic and a digital signature; NitroPDF also has this feature, as does the DocQ web service. The DocuSign web service provides 'electronic signatures,' which are not exactly the same thing either. –Ed.]
There you go…another nice, simple feature of Mac OS X Lion. Any more tricks that you've come across that we haven't hit on here at macoslion.org?