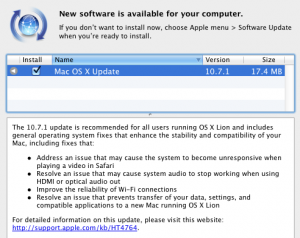 Any little kinks you've been experiencing with Mac OS X Lion will hopefully be solved…with Apple's release(s) of its first update to the new operating system.
According to MacRumors.com, the new update addresses the following:
The 10.7.1 update is recommended for all users running OS X Lion and includes general operating system fixes that enhance the stability and compatibility of your Mac, including fixes that: 
– Address an issue that may cause the system to become unresponsive when playing a video in Safari. 
– Resolve an issue that may cause system audio to stop working when using HDMI or optical audio out. 
– Improve the reliability of Wi-Fi connections. 
– Resolve an issue that prevents transfer of your data, settings, and compatible applications to a new Mac running OS X Lion. 

Apple has also released a version of OS X 10.7.1 specific to the latest MacBook Air and Mac mini models, adding a few additional fixes.
– Resolve an issue where MacBook Air may boot up when MagSafe Adapter is attached 
– Resolve an issue causing intermittent display flickering on MacBook Air. 
– Resolve an issue that causes the SD card slot in Mac mini to run at reduced speed with SD and SDHC media.
Finally, Apple has released a separate OS X Lion Update 10.7.1 (Server) update for those systems with Lion Server components installed, improving the reliability of the Apple File Service, and a unique OS X Lion 10.7.1 Update for Mac mini 2011 (Server) update including all of the OS X 10.7.1, Lion Server, and specific Mac mini changes. 
Furthermore, MacRumors addesses a beta release for developers that deals with the new iCloud service to be released this fall:
Apple has been seeding developers with builds of 10.7.2 to prepare for the launch of Apple's full iCloud service later this year, but the company did not provide any builds of OS X 10.7.1 for developer testing.
All good stuff as far as we're concerned. And a great sign of things to come—like iCloud, IOS5, and more. Can't wait for the fall.